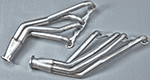 Flow is about more than just stuffing the most air and fuel into the engine as possible. In order to draw an air/fuel charge into the cylinder heads to burn and make horsepower, you also have to efficiently evacuate, or scavenge all the nasty stuff in the combustion chambers left over from burning the previous air/fuel charge.
That's why the airflow experts at Trick Flow turned to the exhaust experts at Stainless Works for headers designed to complement the high-flow characteristics of Trick Flow's cylinder heads. Made in the USA from 304L stainless steel, the Trick Flow by Stainless Works Headers feature CNC mandrel-bent tubing for maximum flow, plus extra-thick laser-cut 3/8 inch flanges for a leak-free fit. The headers are fully TIG-welded—no worries about tubes cracking at the flanges or collectors.
Trick Flow by Stainless Works headers for late model vehicles have high flow stainless steel catalytic converters to keep you legal. Trick Flow even offers headers for turbo applications. All headers come with a lifetime warranty.
Product Link: https://www.trickflow.com/search.asp?Ntt=Stainless+Works&Ntk=KeywordSearch