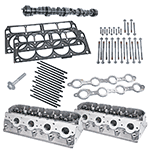 It's true! A Trick Flow GenX Top End Engine Kit for GM LS engines was installed on a 2010 Chevy Camaro SS by Smokey's Dyno and Performance. When tested and tuned on Smokey's chassis dyno, the kit added an extra 100 horsepower at the rear wheels. You can read the story and watch the video at On All Cylinders.
The Trick Flow GenX Top End Engine Kit for GM LS3 removes any parts compatibility guesswork, saving you both time and money. Trick Flow did all the R&D to create a kit that produces big power—a dyno-proven 580 peak horsepower and 525 lbs.-ft. of peak torque—for less than if the components were purchased separately.
The GenX kit includes the following components:
Trick Flow GenX 255 aluminum cylinder heads, CNC Competition Ported
Matched Trick Track Max® hydraulic roller cam, .625 inch lift
Trick Flow chromoly pushrods
Trick Flow by Cometic MLS exhaust gaskets
Trick Flow head bolts
Chevrolet Performance Parts MLS head gaskets and balancer bolt
Trick Flow recommends proper tuning to achieve maximum performance results. This kit is not recommended for engines with Flex Fuel or Active Fuel Management.
Product Link: https://www.trickflow.com/search.asp?Ntt=TFS-K326-580-520&Ntk=KeywordSearch&search.x=28&search.y=13