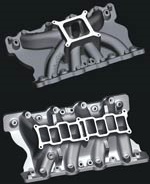 Track Heat® Intake Manifolds for Ford 351C and Clevor
The Track Heat single plane intake manifolds are designed for street/strip applications that operate in the 3,000-7,000 rpm range. The high-rise, one-piece spider design features high-flowing individual extended runners that provide significant horsepower and torque increases in the mid- to high-rpm range. A raised plenum floor increases flow velocity and fuel atomization.
Other important features include OE 2V port locations and dimensions, A319 aluminum construction, integral bosses for nitrous or fuel injection nozzles, extra material for custom port work, and a Holley 4150-style 4-barrel carburetor mounting pad. Overall height to the mounting pad is 6.400".
EFI Intake Manifold Kits for Ford 351C and Clevor
Trick Flow aluminum EFI Intake Manifold Kits are computer-modeled and tested to deliver excellent air/fuel distribution and velocity for increased horsepower and torque.
The kits are available in two versions: R-Series and Box-R Series. The runner lengths and cross-sectional taper of the R-Series intakes are tuned for street/strip engines that operate in the 2,500 to 7,250 rpm range. Box-R Series intakes feature a large plenum/short runner design that maximizes mid-to high-rpm power and torque, making them ideal for supercharged, turbocharged, nitrous, and racing applications that produce power in the 3,000 to 8,000 rpm range.
All EFI manifold uppers are available in silver and black powdercoated finishes or natural aluminum for those who prefer a bare look or wish to use a custom finish.